Swimming Pool Construction and Backyard Renovations Beaumont, California
Need a dependable pool contractor in Beaumont, California?  Call Crystal Blue Pools and Patios. We've been providing reliable professional pool services to the area for over 10 years. Our skilled technicians get the job done properly, with no unnecessary expenses. For your pool and beyond we can also create and upgrade outdoor living spaces, including patio covers, fire pits, concrete paving, and misters. Your swimming pool and backyard are valuable assets you'll want to enjoy to the fullest. Protect your investment with regular maintenance and expert pool repair.
Beaumont Pool Remodeling Services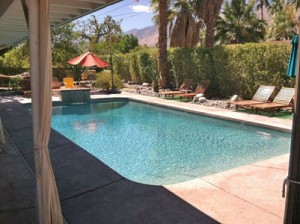 A pool remodel will add luxury and renew the appearance and enjoyment of your backyard oasis. Adding or upgrading an outdoor living space will also improve your Beaumont home's value and sellability.
We're the area's leaders in affordable yet breathtaking pool remodels. Properly done, inexpensive changes to lighting can create a special mood, whether dramatic, formal, or other special moods to create an entirely new experience. When it's time for surface renewal, carefully selected colored plaster, decorative tiles, and pebble finishes can make a huge difference. As both a pool and general contractor, Crystal Blue can include new features such as rock waterfalls, natural stone backdrops, a secluded grotto, or a water slide. Not to mention adding a hot tub or jacuzzi.
Ask us about the many possibilities for extending that remodeling beyond the pool itself, such as concrete deck surfaces and patios as well as fire features such as BBQs and fire pits.
Whether you're going for a whole new look or a minor upgrade, it's also a good idea to update your pools equipment to improve reliability and reduce the cost of operating your swimming pool. Options include high efficiency motors, filters, heaters, salt systems, and automatic cleaners. Above all, don't neglect safety devices and safety features.
Beaumont Pool Repairs
Our trained technicians are also experts in repairing any breakdowns or special conditions, always after explaining the issues and options and getting your approval.
Our pool repair experiences range from superficial tile repair to replacing underwater lights and their gaskets on to a full range of pump, filter, and heater repair and replacement. If your swimming pool experiences tough staining, Crystal Blue can drain the water quickly and then perform an acid wash, chlorine wash, or bead blasting. We're experts at getting the best results with minimal impact on the surface's remaining lifetime. We're also experts in treating green pools, as sometimes occurs when a pool is neglected.
Patio Covers for Beaumont Homes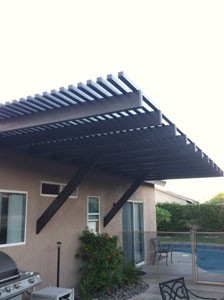 The best backyard experiences come form planning out the pool, deck, lighting, and landscaping all together. We work closely with our sister company, Artistic Landscape Design, to come up with a complete picture that's just right for you and your family.
A covered patio provides shade and a sense of enclosure for backyard living. Whether for entertaining or quiet times to yourself, it can be the centerpiece of your perfect outdoor lifestyle.
Our company is proud to provide Alumawood patio covers — the affordable, attractive, and durable alternative to wood and vinyl shading. This product is eminently customizable and uses aluminum that's textured and coated for the appearance of natural wood. It's corrosion resistant, with none of the warping, insect, and decay problems of wood. Alumawood never needs painting! Our patio covers come with a limited lifetime warranty that's transferable to a new home owner.
Beaumont's Outdoor Assets
With a population of 37,000 people in 2010 projected to grow to some 125,000 by 2040, Beaumont is likely to be the fastest growing city in California. And for good reason. At an altitude of 2,500 to 3,000 feet, the city is less smoggy and usually some 5 to 10 degrees cooler than nearby Riverside and Palm Springs desert environments. The area is even known for it's large apple orchards, with agri-tourism bringing visitors to numerous ranches, farms, shops, and festivals.
Often beside world-class golf courses, the greater Beaumont area has numerous master-planned communities, including Fairway Canyon, Oak Valley Greens, Solera, Sundance, Three Rings Ranch, and Tournament Hills.
Our Recent Work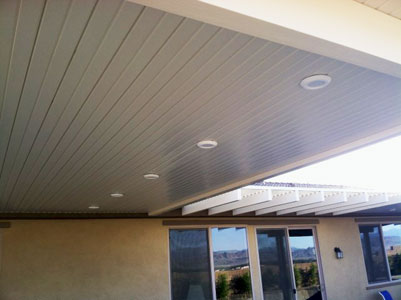 Choose Crystal Blue Pools and Patios
We've been serving the Coachella Valley region since 2005 with countless satisfied customers, including exclusive homeowners. Fully insured and holding both pool and general contracting licenses, we're ready to deliver the very best in all your pool-related needs
We provide swimming pool construction, pool remodel, patio cover installation and complete backyard remodeling services to all Beaumont, California. Schedule your free in-home estimate today (760) 485-1463