Pool Service, Repair La Quinta, California
Crystal Blue provides complete pool service and repair to all La Quinta, California. But we are more than a pool service and repair company. For all your outdoor needs in La Quinta you can count on Crystal Blue
Since 2005 we have been helping La Quinta residents with their patio covers, BBQ Islands, landscaping, water misters, fire pits and of course all their pool services including safety fencing, pool tiling, acid washes and more. Fully licensed fully insured we are your one stop shop for anything having to do with backyard entertainment.
To create your dream backyard or to enhance and maintain your outdoors call Crystal Blue REO Today!

Pool Service
Our La Quinta pool cleaning services will keep your swimming pool water clean and properly chemically balanced. We offer full service weekly pool cleaning, chemical only pool services as well as acid and chlorine washes. Your pool will always stay clean and balanced with Crystal Blue pool services in La Quinta. Learn More

Pool Repair
We will inspect your pool's equipment and ensure everything is functioning properly. Our licensed La Quinta pool repair experts will carry out repairs or change malfunctioning parts and make recommendations. We have the equipment and the expertise to handle all pool repairs in La Quinta. From major renovations to minor repairs Crystal Blue will deliver quality service at affordable prices.Learn More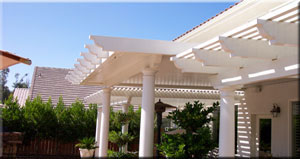 Patio Covers
If you are planing to get a patio cover installed in La Quinta. Consider Alumawood patio structures by Amerimax. Crystal Blue is an authorized installer for Amerimax-Alumawood patio structures. Enjoy your outdoor living space while improving the value of your home, garden and lifestyle with one of Amerimax's patio cover products. Learn More

Child Safety Fencing
Are you planing to add a fence to your swimming pool? The choices are endless. We offer a large variety of swimming pool fence options for La Quinta residents. During our free in-home evaluation we will go over the styles and options that will accommodate your needs and your budget. Enjoy your pool with peace of mind with an attractive safety fencing that is available in a variety of colors, styles and heights.Contact us today to schedule a free in home consultation. Learn More

Patio Misters
Patio Misters help you appreciate your patio all day  in La Quinta. Even on the warmest summer day, a mister can drop the outdoor temperature by up to 25 degrees F, allowing you to enjoy your backyard even during the scorching late afternoon hours. Fogco water misting systems integrate water and pressure to offer ultimate cooling. Mist nozzles are installed overhead and run under high pressure to generate tiny water droplets lowering the surrounding air temperature. A high end mist system can reach maximum cooling without wetting or residual moisture. Learn More 

Amazing Discounts For All La Quinta Residents
Our Recent Work