Pool Service, Repair and Remodel Indio, California
Looking for swimming pool service or a pool contractor in Indio, California? We're Crystal Blue Pools and Patios, your outdoor company!
We offer a complete line of services, from routine pool cleaning and maintenance to repairs to remodeling and new construction. We also do patio covers, fire pits, BBQ islands, and misters. Our skilled and certified technicians get the job done right.
Swimming pools are popular in Indio's hot summers. With warm winters the outdoors are calling you to enjoy your backyard all year long. By creating a fantastic outdoor living space you increase the value of your home, to yourself as well as to potential buyers.
Don't neglect the most valuable property asset beyond your house.
Give us a call. We can make your backyard more inviting, prevent health and repair problems, and extend the lifetime of your pool.
Indio Pool Services
Crystal blue delivers reliable and professional pool cleaning, maintenance, and chemical services in Indio and can schedule affordable twice-weekly, weekly, or bi-weekly visits. We'll do surface skimming, clean the baskets, test and adjust the chemicals, inspect all equipment, and vacuum and brush the walls as needed.
We take pride in our work, keeping your swimming pool at its best. Our maintenance can increase lifetime, reduce repairs, and keep its water healthy and sparkling. Pardon our pun, but we're the clear choice in Indio. For detailed information visit our pool service page.
Need Pool Repairs in Indio?
Crystal Blue technicians are trained, equipped, and experienced in pool repair. That includes pump, filter, and heating equipment, plumbing repairs, draining, and tile-repair or replacement. We service all major brands of automatic cleaners. We're experts in diagnosis and are ready to repair or replace on your approval.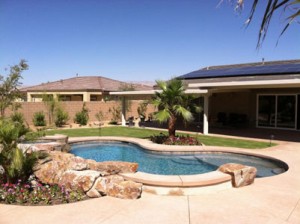 Top Quality Pool Remodeling Service
We take pride in our pool remodels, and you will too. Crystal Blue offers plaster, pebble, and tile finishes, and specializes in natural rock waterfalls and deck paving. Our renovations can include high-efficiency motors, filters, and heaters as well as state-of-the art cleaning systems and salt systems.
New Pool Construction
Looking for an experienced pool contractor in Indio? We're a fully licensed pool contractor. Let us design your dream swimming pool and get it build on time and within budget. We can also be your one stop for a full outdoor living package of pool, deck, patio and landscaping.
Stylish and Durable Patio Covers
Our company proudly installs Alumawood patio covers. These shading structures offer the beauty of real wood without the cost and maintenance of real wood. Alumawood is aluminum with an embossed rich woodgrain finish. Attractive and durable, it won't crack, peel, rot, or burn. It's termite proof and doesn't require painting. You'll even get a lifetime warranty!
With a shaded patio you'll enjoy live more with an extended outdoor living space for entertaining, BBQs, outdoor dining, or just relaxing.
Fire Pits and BBQ Islands
Crystal Blue can also design and install custom BBQ and fire features.
A BBQ island is a simpler alternative to a full-blown outdoor kitchen. It can be a simple grill, or include options such as burners, a refrigerator, and storage. We specialize in stone and tile finishes.
Fire pits are very popular here in the desert, where even summer nights can be cool. They're a gathering place for conversations with friends and family, or a romantic nightcap. We can even integrate water features for some special magic.
Patio and Landscape Misters
Installing a mister can be one of the best investments you can make, letting you enjoy your backyard way more often. Overhead nozzles disperse tiny droplets; done properly you won't actually get wet. A properly designed and professionally installed system can drop outdoor temperatures by as much as 25 degrees F. Enjoy your yard all day, even in the late afternoon, with no need to escape indoors.
Crystal Blue Pools and Patios in Indio
We've been dedicated service professionals in the Indio area for some 10 years. We're fully licensed and insured, with experience and expertise in all aspects of residential pools, decks, and patio covers. From weekly pool cleaning to pool repair to a major pool remodel, we're ready with affordable solutions. Our experts even know exactly how to deal with neglected pools on move-in.
We're proud of our design, installation, repair, maintenance, and service. You will be too.
So call us. We'd like to get to know you and show you the amazing things we can do.